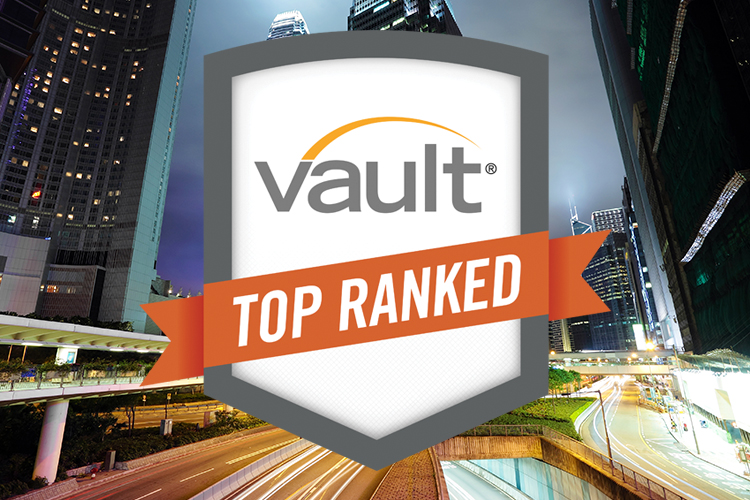 The Vault Law team is excited to share the 2020 rankings for the Vault Law 100, Best Law Firms by Practice Area, and Best Law Firms by Region! This year is particularly exciting because we have added a new practice area ranking—Media, Entertainment, & Sports—and a new regional ranking—South Atlantic. We also observed some interesting firm moves, including a 15-spot jump by one firm. Read on for more details about this year's Vault Law rankings.
2020 Vault Law 100
The 2020 Vault Law 100 ranks the 100 most prestigious law firms in the country, and Cravath, Swaine & Moore continues its reign at the top, claiming the No. 1 spot for the fourth year in a row. The firm's lead over the No. 2 firm—Wachtell, Lipton, Rosen & Katz—has steadily grown to .377 points, up from .322 points in the 2019 rankings and .268 points in the 2018 rankings.
The Top 10 Most Prestigious Law Firms nationally based on Vault's Annual Associate Survey for 2020 are:
Cravath has a stellar reputation, with survey respondents describing the firm as "best of the best," "elite," "powerhouse," and "hardest working firm there is." The firm's reputation is further cemented by its influence over the industry, with respondents dubbing the firm "market leader," and "compensation setter," and one respondent stating, "They decide my salary."

"Cravath has become synonymous with 'prestige,' and its position as the nation's top law firm is a combination of its high-profile work and industry influence," said Mary Kate Sheridan, Vault's Senior Law Editor. "The firm is recognized as having the best corporate practice in the country, and its litigators are hard to match. On top of its elite practices, the firm continually sets the compensation scale and has defined associate hiring and training as we know them."

At No. 2, Wachtell Lipton is also up on a BigLaw pedestal. Among the descriptors shared by survey respondents about the firm are "the gold standard," "untouchable," and "prestige incarnate." The firm also maintained its long-held position as the No. 1 firm in New York.
Milbank Jumps 15 Spots in the Vault Law 100
The biggest jump in the 2020 Vault Law 100 rankings belongs to Milbank LLP, which launched from its prior spot at 40 to join the top 25 firms at No. 25. Milbank took the compensation spotlight from Cravath in June 2018 when it raised associate salaries. While Cravath swooped in and provided slightly higher raises for mid-level and senior associates, Milbank's raises for juniors set the market. And its decision certainly had an impact. Among comments shared by survey respondents about Milbank are, "Milbank scale," "gave me a raise," "market leader," and—one of our personal favorites—"Milbank more like thrill-bank."
"Milbank stepped into the spotlight in a big way this year," said Sheridan. "Not only did the firm make a statement with associate salaries, but it also rebranded—legally changing its name to Milbank LLP—and moved its NYC headquarters to Hudson Yards. Unsurprisingly, associates took notice. It will be interesting to see the firm's next steps."
Latham and Paul, Weiss Hold Steady
Last year, Latham and Paul, Weiss both made top 100 history, with Latham bursting into the top 5 and Paul, Weiss breaking into the top 10. Both firms have held steady at these spots in the 2020 Vault Law 100 rankings.
Make Way for Kirkland
Kirkland inched into the No. 6 spot on the Vault Law 100 this year, up from its position at No. 8 last year. The firm is .035 points behind Latham at No. 5. Kirkland also broke into the top 10 in the New York regional ranking for the first time, clinching the No. 10 spot, and made an impressive debut in the Boston ranking at No. 7. On the practice side, Kirkland launched into the Energy, Oil, & Gas ranking, claiming the No. 4 spot.
"Kirkland has been turning heads in recent years, poaching top partners from other elite firms, topping AmLaw 100's list of firms with the highest gross revenue, and opening multiple new offices over the past five years, including two in Texas and one in Boston," said Sheridan. "Vault expects to see more big moves from Kirkland in the future if it continues on this trajectory."
A Prestige Boost in Philly
The 2020 rankings marked a rise in firms with Philadelphia roots. Notably one quarter of the firms that moved up three or more spots in the Vault Law 100 rankings are based out of the City of Brotherly Love. These firms include Morgan Lewis (No. 36), Fox Rothschild (No. 85), Duane Morris (No. 87), and Ballard Spahr (No. 94). 
Plus, Cozen O'Connor, another Philly-based firm, broke into the rankings for the first time, claiming the No. 100 spot.
"In recent years, we've seen increasing growth in secondary markets outside of New York," said Sheridan. "While quintessential New York firms like Cravath and Wachtell continue to dominate the ranking, and while we noted some interesting moves among New York firms this year, this growth in Philadelphia marks a continued trend of associates looking beyond the Big Apple."
Vault Unveils Its New South Atlantic Ranking
This year, Vault has released a new regional ranking: South Atlantic. This ranking includes firms with offices in Georgia (outside of Atlanta), North Carolina, South Carolina, and Virginia. Claiming the No. 1 spot in this ranking is Alston & Bird LLP, followed by King & Spalding LLP (No. 2), McGuireWoods LLP (No. 3), K&L Gates LLP (No. 4), and Moore & Van Allen PLLC (No. 5).
This year's regional rankings also saw new leaders in Southern California—with Latham reclaiming the No. 1 spot after falling to No. 2 last year—and the Mountain States—with Holland & Hart LLP moving into the top spot.
Vault's No. 1 firms in each region are:
Atlanta: King & Spalding LLP
Boston: Ropes & Gray LLP
Chicago: Kirkland & Ellis LLP
Miami: White & Case LLP
Mid-Atlantic: Skadden, Arps, Slate, Meagher & Flom LLP and Affiliates
Midwest: Jones Day
Mountain States: Holland & Hart LLP
New York: Wachtell, Lipton, Rosen & Katz
New York - Midsize: Pryor Cashman LLP
Northern California: Morrison & Foerster LLP
Pacific Northwest: Perkins Coie LLP
South Atlantic: Alston & Bird LLP
Southern California: Latham & Watkins LLP
Texas: Vinson & Elkins LLP
Washington, DC: Covington & Burling LLP
The full rankings for each of these regions can be found here.
Introducing Vault's New Ranking for Media, Entertainment, & Sports
Vault has added a new practice area ranking this year: Media, Entertainment, & Sports. Proskauer Rose LLP clinched the No. 1 spot in this ranking, with O'Melveny & Myers LLP following at No. 2 and Davis Wright Tremaine LLP coming in at No. 3.
Vault has released 26 other Practice Area rankings. This year's rankings saw a new No. 1 in IP Boutiques: Desmarais LLP. Otherwise, there was no change to leaders in the practice area categories.
View the entire Top 100 Law Firm Rankings, the Best Law Firms in Each Practice Area, and the Best Law Firms in Each U.S. Region at vault.com.
So How Do We Get Our Survey Data?
The Vault Law 100 ranking is based on scores from nearly 20,000 law firm associates surveyed earlier this year, who were asked to rate law firms on a scale of 1 to 10 based on prestige. Survey respondents were not allowed to rate their own firms and were asked only to rate firms with which they were familiar. In addition to the industry-wide ranking of overall prestige, Vault also asked associates to rate the local prestige of law firms in their region and to select the strongest firms in their specific areas of practice. From this data, Vault produced 15 regional prestige rankings, including rankings for New York (both for large firms and midsize firms); Washington, DC; Boston; Texas; Chicago; Southern California; and our newest regional ranking: South Atlantic. Vault also produced 27 practice area prestige rankings, including rankings for Commercial Litigation, General Corporate, M&A, IP, Antitrust, and our newest practice area ranking: Media, Entertainment, & Sports.
About Vault
Vault is the most comprehensive and trusted resource for law students and laterals to research law firms. Vault's law firm rankings and profiles deliver the insider perspective and essential information candidates need to make successful career decisions. Each year, Vault surveys thousands of associates to understand what life is like for attorneys at the nation's top law firms. Vault ranks law firms by prestige, region, and practice area as well as top firms for quality of life using its annual survey results. Additionally, Vault publishes other valued resources including the Vault Guide to Summer Associate Programs and Interviewing, Vault's Guide to Legal Practice Areas, and Law Firm Diversity Profiles. Through Vault's law school platform, thousands of students at law schools across the country from nearly 100 partnering schools, have unlimited access to this critical information.
Join Gold to Unlock Company Reviews