Find the Best Law Firms to Work For
Find out what it's really like to work for the top law firms.
Law Blog
Law Students, It's Okay to Not Be Okay During the Coronavirus Pandemic
COVID-19 has impacted life as we know it across the globe. For law students in particular, the pandemic has caused a number of challenges and disappointments. Intense emotions like anxiety, sadness, and anger are completely normal—and it's okay to adjust your goals and expectations to prioritize your mental health needs.
How to Handle Your Legal Job Search During the Coronavirus Outbreak
Whether you are a law student or attorney, the coronavirus pandemic has likely derailed your legal job search or career planning. Below are some tips for navigating this uncertain time when it comes to OCI, summer associate and internship positions, and the lateral job search.
Law Firm Diversity Database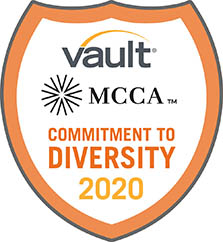 Visit the Vault/MCCA Law Firm Diversity Database
The Law Firm Diversity Survey collects both quantitative and qualitative information about recruiting, promotion and retention at the nation's top firms. Use the database to track industry-wide trends or to compare demographic data, diversity programs and best practices at individual law firms. Each firm's complete set of survey responses is also available in a single diversity profile.
Do you want to learn more about the best law firms to work for in the practice area you're most passionate about? Are you interested in discovering the most exciting law-related internships? Vault's Law Finder can help you find the best law firm for you, providing you with the career information you need to build the career you want. Connect with the firms you've been following, or browse our rankings of the Top Law Firms. With a Vault Gold profile, you'll have access to exclusive insider information, including associate reviews, insights into the firm's culture, salary and benefits, pro-bono work, and more.